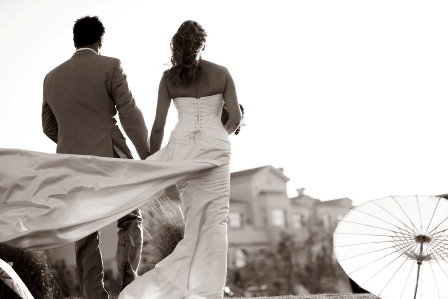 Classic Club is a Tuscan-inspired country club wedding venue. A grandiose three-story clubhouse and its surrounding golf course grounds offer a perfect wedding oasis in the heart of the desert, ideal for destination weddings. Here, you can enjoy a choice of event spaces, stylish services and elegant accents to complete your special day.
Classic Club offers an array of indoor and outdoor locations for a range of wedding celebrations. The surrounding golf course offers meticulously manicured lawns and multiple water features for a picturesque outdoor ceremony. Here, your guests can enjoy the rich landscape as you exchange your vows in the open air. Slate bridges over sparkling waters create ideal wedding photography opportunities. The wrap-around terrace provides a perfect location for a sophisticated cocktail hour, with views across the golf course and the Little San Bernardino mountains beyond.
Choose from an array of stylish event rooms for your main reception. The Constellation Room is Tuscan-inspired and offers stylish seating for up to 170 guests. This space allows for indoor/outdoor event flow, with a hallway leading to the terrace which overlooks a spectacular fountain. The Phoenix Room is ideal for more intimate gatherings, offering a large fireplace and wooden accents to create a warm and inviting atmosphere. This space can comfortably seat up to 80 guests for smaller wedding gatherings. The Orion Room is ideal for those who wish to make a grand entrance. This secluded spot can host up to 140 guests for your perfect celebration. For larger parties, the Main Dining Rooms of Bellatrix Restaurant provides seating for up to 300 guests and allows access to the full terrace, a wine bar, and includes the Phoenix Room.
For more information or to start planning your special day please complete a contact form or call us at (760) 601-3603.